Deconstruction of more than half a million square feet of commercial and entertainment space on Freemont Street in Las Vegas was accomplished by North American Dismantling Corp. as a subcontractor to Tre Builders. Demoli­tion included various one- to three-story structures, a seven-story parking garage, and north and south office towers, which stood 15 and 14 stories, respectively, to make way for the first new casino resort to be constructed downtown in decades.
The abandoned interiors still housed a multitude of materials, from refrigera­tion and kitchen equipment to carpeting, drapers, and furnishings. The exterior materials ranged from brick to finished concrete to the Gunite screen. The south tower incorporated a metal and concrete facade at the roofline. Structural steel was used throughout. The north tower, with its steel frame and staggered truss system, was a particular challenge.
"We needed to build a workbench for the high-reach equipment to access the towers," says Jerry Decker, project manager with North American Disman­tling. As the structures came down, the materials were segregated and sized for use in constructing the 35-ft-high work­bench for accessing the north tower.
The high-reach equipment was used first to remove the roof, penthouse and four stories of floors between the column lines. Once exposed, a crane with a man basket carried workers to designated elevations for torch cutting and felling. This continued from east to west, bay by bay, until the stairwell at the west end was reached. The west end was then felled in four separate events.
Dust control was a major concern since the buildings were surrounded by crowded streets and casino venues. This led to a deliberate, phased demolition approach. "The Clark County Depart­ment of Air Quality visited the project every day," Decker says. "They were always complimentary of our efforts to control dust and did not issue a single warning or citation." The project required 28,163 man-hours.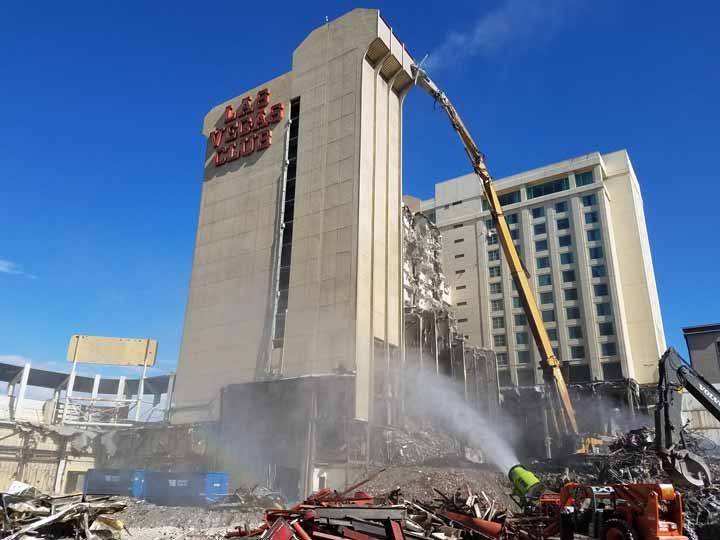 Materials from the concrete parking struc­ture were used to construct a 35-ft-high workbench needed for the high-reach equipment to access the towers.